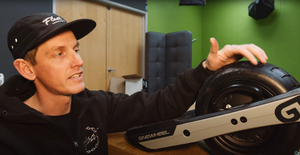 TIPS FOR BUYING A USED ONEWHEEL
I love the rubbery smell of a fresh new Onewheel. But there are many reasons why buying used can be
a better option. If your budget is constrained but you can't kick the dream of living The Float Life it's
time to expand your search!
"Remember, if it's too good to be true it almost certainly is."
1. Don't get scammed
There are many fake Onewheel listings and scammers are always getting more creative. Most sites do not have buyer protection for a shipped Onewheel, so you should avoid any seller that wants to ship you the board. They often have a local listing but claim to be out of town. They may show you a picture of a shipping label with your name on it. These images can be generated. They may show you a picture of the Onewheel holding a paper with your name on it. These can be photoshopped. Remember, if it's too good to be true it almost certainly is. If you're unsure, reach out to an online Onewheel community like https://www.reddit.com/r/onewheel or a Facebook Onewheel community group. A lot of people there will have familiarity with common
scams and can tell you whether they see any red flags.
2. Decide on a Onewheel model
There are currently 6 Onewheel models. They are the V1, Onewheel +, Onewheel +XR, Pint, Pint X, and GT. The V1 and Onewheel+ should generally be avoided for a first time buyer. If you'd like a blog post comparing the models let us know in the comments.
3. Start your search
There are many places to look.
Offerup: Offerup does not allow shipping of items over 20lbs and all Onewheels are over 20lbs. Don't get scammed and don't bother with listings that don't have local pickup. https://offerup.com/search?q=Onewheel 
Facebook Marketplace:  https://www.facebook.com/marketplace/ Expand your range and filter Delivery method by Local pickup. Check how recently the seller joined Facebook. Local Facebook Groups: Search for and join your local Onewheel group. https://www.facebook.com/groups/search/groups_home/?q=onewheel 
eBay: Check that the seller has positive feedback! eBay has buver protection but you still don't want to waste your time on a Onewheel that is never going to come.
4. Be Patient!
5. Ask the seller the right questions
Does the Onewheel power on and ride normally? Has it been unused for a prolonged period of time? A new battery may be required which is an expensive repair. Ask for a screenshot of the app diagnostic page. If it doesn't match what the listing claims that is a red flag. Can you or the seller ride the board at the meetup to verify there are no issues? Listen for abnormal grinding sounds
6. Get the right price
Don't overpay when buying used. Any Onewheel is worth its weight in gold, but since you can get one for less you should. 
Pint – I tell people looking to sell their Pint to list it for $600 and don't accept an offer lower than $500.
 
+XR – This one has the most variation in price because it is the most customizable. A good price can range anywhere from $800-$1200.
 
Pint X – Plenty sell for $1000.
 
GT – These rarely sell for lower than $1800.
7. Do the deal
Some police departments offer Safe Exchange Zones. If that is not available locally to you, find a public place to meet you feel comfortable. Download the Onewheel app to your phone before you go. https://onewheel.com/pages/using-the-app  When you meetup you should be able to turn on the board and connect to it without issue. If you don't yet feel comfortable riding the board yourself, ask the seller to ride it a few feet forward. If neither you nor the seller feel comfortable riding it, use your fingers to engage the front footpad and bring the board to level. When you hear the motor engage, gently push down to make sure the board goes forward like normal.
8. Start living The Float Life
Throw on your helmet, check the tire pressure (a good rule of thumb is 10% body weight so 180lbs = 18psi), and ride your Onewheel.
---
2 comments