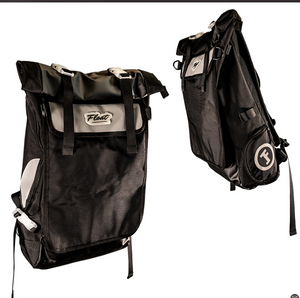 INTRODUCING THE ULTIMATE ONEWHEEL BACKPACK!
Your companion for adventure
"Say goodbye to compromising on comfort, functionality, and style, because this backpack ticks all the boxes."
Hey there, fellow adventurers! We're thrilled to share with you an exciting new backpack that has been built from the ground up with Onewheel riders in mind. Say goodbye to compromising on comfort, functionality, and style, because this backpack ticks all the boxes. Without further ado, let's dive into the features that make this backpack a game-changer for Onewheeling enthusiasts:
Durability
This backpack is built to withstand the demands of outdoor adventures. Crafted from high-quality materials, it ensures long-lasting durability, keeping your gear safe and secure. Heck, we even offer $10 insurance if you're really planning on sending it! 
Comfort
The backpack features ergonomic design elements, including padded shoulder straps and a breathable back panel, providing optimal comfort during long rides. You'll be able to focus on your riding without any discomfort. It's just the right size, not too big and not too small. 
Organization
Stay organized on the go with multiple compartments and pockets. You'll find designated spaces for your charger, sun glasses, helmet, protective gear, water bottle, and other essentials. No more rummaging through your bag to find what you need! Also the charger pocket is isolated from the rest of the bag so you'll keep dirt and the elements out of the main pocket. 
Water-Resistant
Unpredictable weather won't dampen your spirits or your gear. The backpack features a water-resistant exterior, ensuring your belongings stay dry in light rain or accidental spills. Plus that roll-top helps with additional water protection. 
Low-Key Design
While functionality is paramount, this backpack also boasts a sleek and low-key design. It doesn't scream "Onewheel" or draw unnecessary attention, making it perfect for both urban and outdoor settings. Although, we do have a rad Ride, Charge, Repeat slapper under the panel 🤘 Oh, and did we mention that this pack has high vis reflective panels on it to light you up at night so the cars don't wreck you?! 
Adjustable Straps
The backpack comes with adjustable straps that allow you to customize the fit according to your body shape and size. Achieve a comfortable and secure fit that won't restrict your movement.
"This is for sure my new go-to bag! Not just for Onewheeling, but for everyday adventures too." 
-Bodhi Harrison
Versatility 
Although designed with Onewheeling in mind, this backpack is versatile enough to accompany you on various outdoor activities. Whether you're hiking, biking, or exploring new terrains, it's your trusty companion.
Additional Features 
You're going to constantly be finding new features on the TFL Rider Bag! So many extra features you can tell Bodhi put a ton of thought into designing the TFL Rider Bag. 
Now that you're acquainted with The TFL Rider Bag, you can embark on your adventures with confidence, knowing that your gear is well-protected and easily accessible. Don't settle for anything less when it comes to your Onewheeling experience!
Remember, whether you're cruising through the city streets or venturing off-road, this backpack has got your back—literally. Get ready to elevate your Onewheeling game and embrace the freedom of the open road like never before!
---
1 comment