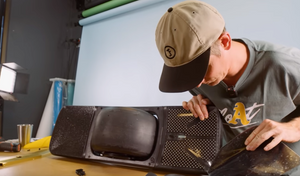 Onewheel GT Activation Issues? EASY FIX!
Congratulations on getting your brand new all-wheel GT! However, you may have encountered some frustrating sensor activation issues while trying to ride it. In this blog post, we will explore five simple and effective ways to fix these problems and ensure smooth activation of your One-Wheel GT. Click the thumbnail below if you think reading is for nerds and prefer to watch the video 👇
"WHY THE HECK IS MY ONEWHEEL SO DIFFICULT TO ACTIVATE?!"
TIP #1 FOR FIXING YOUR ONEWHEEL SENSOR ACTIVATION ISSUES
Use Furniture Coasters or Grip Tape: One quick and easy fix is to place furniture coasters or extra pieces of grip tape on the sensor zones of your foot pad. This creates a buffer and improves contact, making it easier to activate the sensor. While this method is inexpensive and works well, it may not be visually appealing or provide the same level of grip as original grip tape. CLICK HERE TO GET SOME COASTERS
TIP #2 FOR FIXING YOUR ONEWHEEL SENSOR ACTIVATION ISSUES
Gripples are custom-shaped, urethane pour stomp pads that can be placed anywhere on the foot pad. They not only enhance grip but also significantly improve sensor activation. Gripples are a more aesthetically pleasing option compared to furniture coasters and offer better foot stability, especially when riding on rough terrains.
TIP #3 FOR FIXING YOUR ONEWHEEL SENSOR ACTIVATION ISSUES
The Euro Posi method involves bridging the connection between the left and right sensors of the foot pad. By doing so, the foot pad is transformed into a one-zone sensor, making activation easier. However, this method requires disassembling the board and may result in the loss of heel lift ability. It's reversible and a good option if you're comfortable with skid stopping or jumping off the board to dismount.
TIP #4 FOR FIXING YOUR ONEWHEEL SENSOR ACTIVATION ISSUES
The SureStart is a recommended solution that provides the benefits of a single-zone sensor without permanent alterations to your board. It temporarily turns the two sensor zones into one during startup and reverts back to a two-zone sensor after a programmable delay. This method ensures easy activation while retaining the ability. The Standard SureStart will fix your sensor activation issues, but if you want additional features, be sure to check out the SureStart Pro! It has a deactivation delay and AirSense which help to keep your board activated on gnarly off-road trails. 
TIP #5 FOR FIXING YOUR ONEWHEEL SENSOR ACTIVATION ISSUES
Not Recommended: Removing the Sensor Plastic Layer: While some users have tried removing the additional plastic layer added by the manufacturer to make the sensor less sensitive, we do not recommend this method. It carries a high risk of damaging the sensor and may lead to ghosting issues. Only attempt this method if you are fully aware of the risks involved and have the necessary expertise.
"Each method has its pros and cons so be sure to choose the method that best suits your riding style and risk tolerence"
Conclusion: There you have it! Five ways to address sensor activation issues on your One-Wheel GT. Each method has its pros and cons, so choose the one that suits your preferences and riding style. Remember, it's essential to prioritize safety and avoid attempting methods that could potentially damage your board. Enjoy your rides with hassle-free sensor activation!
---